Teacher Week Tuesday: Make Ahead Meals
During my first year of teaching my idea of a "Make Ahead Meal" was ordering a $5 pizza from Little Caesars and picking it up on my way home from work. Awful idea!! In addition to a very much needed "chocolate drawer" to get me through that first year, I'm pretty sure I'm still working off the 15 pounds I gained from my lack of creativity and will power.
14 years later I still do Thai takeout and the occasional Panera stop after work (a big YUM to their shortbread cookies!), but I've also attempted to master the art of crockpot cooking. Knowing something is cooking all day and all I have to do is go home, take off the lid and eat it, is the BEST feeling during a long day at school!
My go to site for slow cooker recipes is: 365 Days of Slow Cooking (365daysofcrockpot.com)
She has tons of great ideas for crockpot meals that don't require too many steps. They're not all 3 ingredient meals, but once you have the basic spices (basil, parsley, garlic powder, onion powder, bouillon) and extra random stuff (powdered milk, instant tapioca) you don't typically have to buy that many items to have an entire recipe ready to go.
These are two of my favorites:
My hubby and I have been feeling in the mood for fall recently (I've already made and consumed my allotment of pumpkin chocolate chip cookies for the entire season and don't even get me started on my all consuming excitement for a pumpkin spice latte), so we started looking into some simple casseroles we could make and freeze for the days we don't have time to throw something in the crockpot. So far this breakfast casserole is our fave.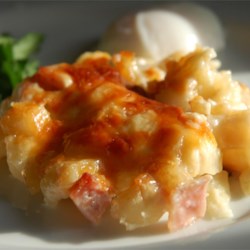 We add peppers, mushrooms, and onions to the recipe and then watch Netflix while we eat it in our living room and give Lily pets (Fact #1). This is my definition of a perfect night. Does that mean I've become boring? If so, I care not. Casserole, Netflix, dog snuggling, what could be better?! 🙂
See you tomorrow for a Classroom Tour! 🙂