End of the Year Fun with Wonka Week
Looking for a fun classroom management solution to motivate your elementary students? Try Wonka Week! Perfect for teachers in 2nd & 3rd grade classrooms to use at the end of the school year. Read Charlie and the Chocolate Factory and plan some candy themed math & science activities for end of the year learning fun! Read on for instructions, ideas, and free printables.
What is Wonka Week?
Wonka Week is a candy themed week(s) teachers can use to sneak in some learning during the craziest times of the school year.
It is based on using golden tickets as a short term classroom management strategy, and integrating candy themes into all subject areas.
Movie watching can be included. There are two movies, so you should probably watch both.
When is the best time of year to use Wonka Week?
Wonka Week works wonders at the end of the school year, but it works equally well the week before Spring Break or any other time you're anticipating squirrely children and need something a little different to calm the masses.
If you are planning a reading of Charlie and the Chocolate Factory, Wonka Week can be used throughout your novel study.
The kids love anything that has any connection to candy so all of these activities are perfect for crazy weeks when you still want to actually teach something meaningful.
What do I need to do to prepare for Wonka Week in my classroom?
Buy: a bag or two of small wrapped candy bars (not the vacuum sealed kind – the wrapped in foil-lined paper kind), and 10-15 candy bars or other "big" prizes.
You can find the same candy bars I use in a large bag on Amazon HERE instead of buying 3 or 4 smaller bags at the grocery store (affiliate link).
For the large prizes I buy candy bars at The Dollar Store or save up larger random items I collect during the school year. The large prizes don't have to be candy. Anything special works!

Print: the Wonka Tickets on yellow/gold paper.

Put: Wonka tickets inside the special small candy bars (as many special candy bars as you have "big" prizes). You will have to fold them up and reseal the small candy bars with a glue stick.

Cut: the rest of the Wonka Tickets out and put them in a secure baggie hidden from view.

Get: a beautiful clear bowl or vase to house all of the little candy bars. (Isn't mine pretty?! I pretty much LOVE this Teacher Appreciation Day Gift! Perfect for WONKA Week!)

Display: the clear bowl full of small candy bars and the "big" prizes somewhere up high in your classroom – keep them visible but not reachable!
For maximum effect, put these out a few at a time the week before Wonka Week. The anticipation will be palpable!

During the week give out Wonka Tickets instead of your normal classroom incentive to awesomely behaved students.
At the end of the day you can let all students who received a Wonka Ticket trade it in for a pick in the candy bar bowl or do a random drawing of Wonka tickets, letting only students who are drawn choose from the chocolate. (I moved to the latter option after spending WAY too much money on chocolate!)

Students who get a Golden Wonka Ticket in their small candy bar get one of the exciting giant prizes!

How can I make sure I don't run out of Wonka prizes?
Secret Teacher Trick: to make sure the Wonka fun lasts as long as you want it to, only put one or two special "Golden Ticket" bars in the bowl at a time. That way you can draw out the Wonka fun for as long as it is effective.
If you are interested in trying out Wonka Week in your classroom, you can download a free copy of these Golden Tickets here.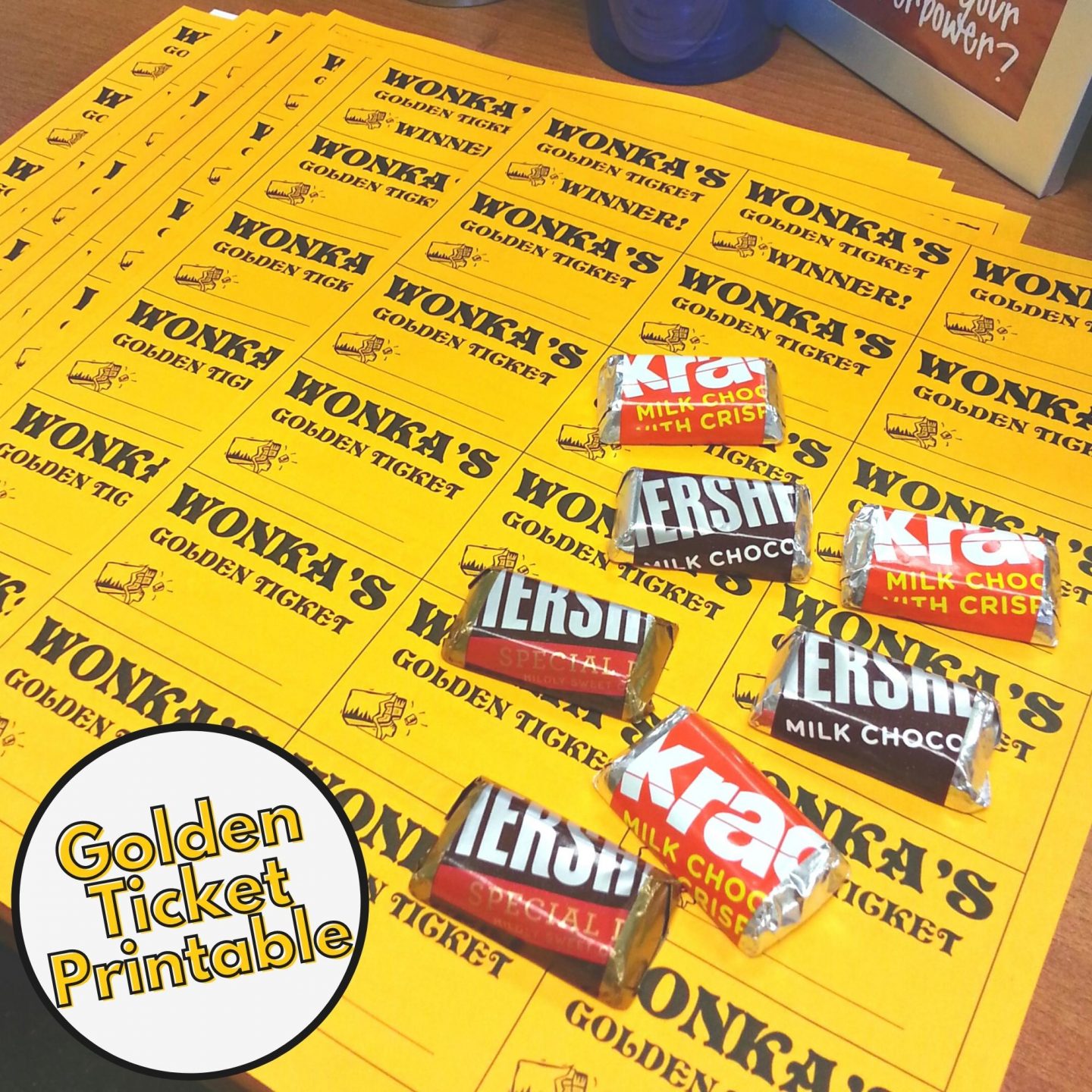 My school doesn't allow candy. Can I still plan my own Wonka Week?
Absolutely! Although eating candy is typically seen as superior to just talking about it, you can substitute the candy prizes for classroom coupons or something else equally exciting.
Instead of placing the golden tickets inside of candy bars, simply hand these out like you would tickets, have students write their names on the back, and then place them in a fancy bowl for end of the day drawings. Then, you can draw out tickets for whatever you want to use for prizes.
You can still use the Wonka Tickets above as your shiny new classroom incentives, and integrate Wonka themed activities throughout your curriculum.
How can I integrate candy themed activities into all areas of my curriculum?
Since Charlie and the Chocolate Factory is a certifiable classic, start with a class reading of the book and work candy themes into the rest of your curriculum.
Here are just a few ideas. Please comment on this post or e-mail me at [email protected] if you have other ideas. I'd love to add them to the list!
Wonka Math Ideas
Use these FREE Wonka math printables for fast finishers, math contracts, morning work, and group problem solving during Wonka Week(s).
This set of math activities includes Candy Calculators (in/out tables), Oompa Loompa Equations (equal equations), and Golden Ticket puzzles in printable and Google Slides formats.
Each activity comes in two versions for Super EASY differentiation!
Head here to get these sent right to your email.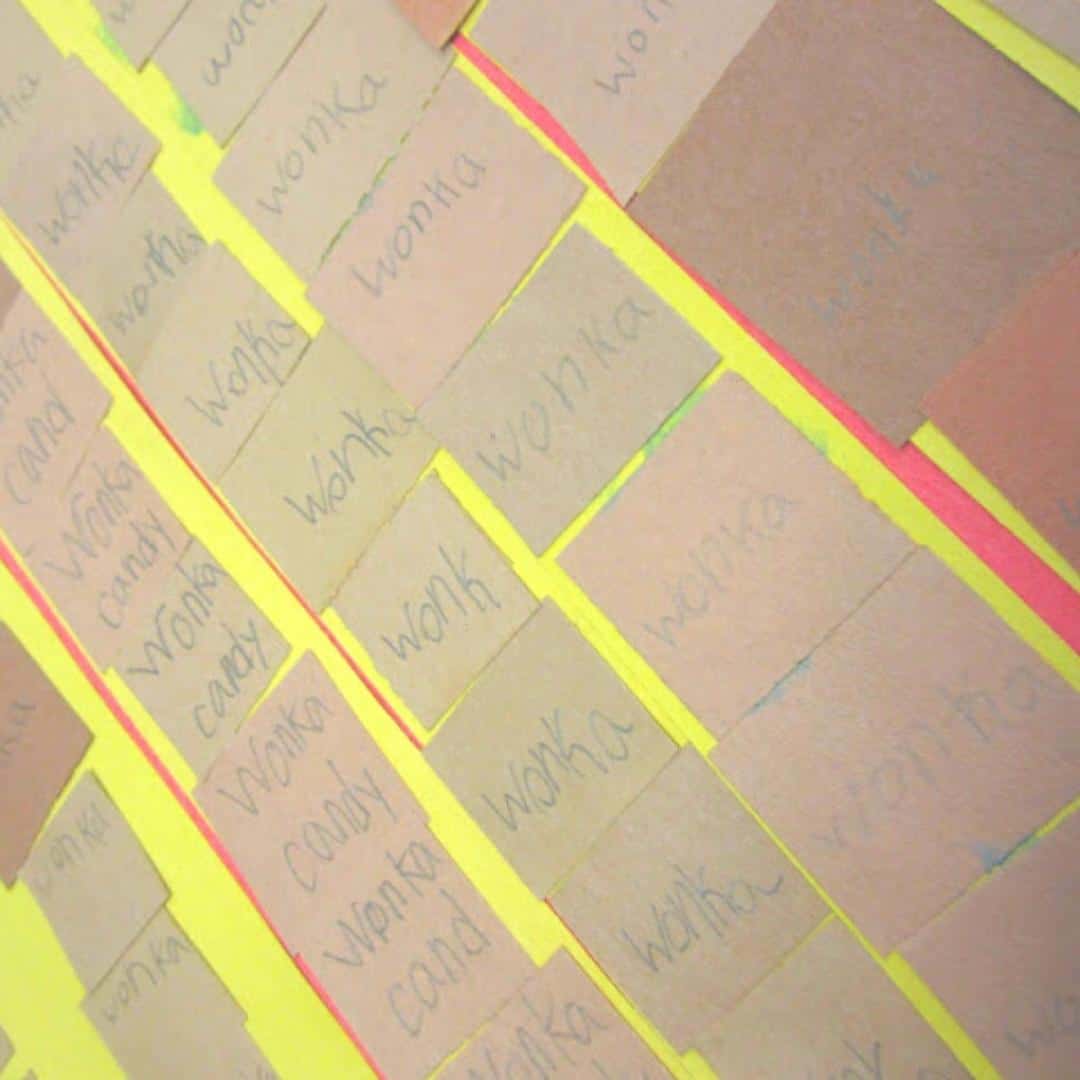 Practice place value while making WONKA bars using construction paper caramels, bars, and boxes. You get to be Willy Wonka and your kiddos get to be oompa loompas!
You can get all the details about making Wonka Bars at this Super Teacher blog post.
Need More Wonka Math?
The Wonka Math Challenges and Brainteasers set below includes 42 Wonka and candy themed math activities.
Since Wonka Week is typically a whole class affair, this set has similar problems on a variety of levels for grades 2-4 so all students have access to appropriately challenging math fun!
Plus, they come in printable and Google Slides versions, so you can project them on your screen to use as whole-class number talks, centers, or computer lab activities.
You can grab this set of differentiated Wonka math activities at the Super Teacher Store here.
Wonka Writing Ideas
Have students create a brand new candy to pitch to Willy Wonka. They can write up advertisements or persuasive letters for Willy convincing him their candy should be added to his repetoire.
Have students write their own candy themed story problems like the ones in the Wonka math challenge packs. Then choose the best ones as daily number talks or fast finishers.
Wonka Art & Math Project
Design a new floor for Wonka's Factory to practice measurement and mathematical problem solving skills.
You'll get 2 differentiated versions of the project + an editable teacher copy to customize.
You can grab the Wonka Factory Design project here.
Wonka Science
Candy based science experiments are tons of fun! The one pictured below answers the question "What will happen to a Gobstopper when submerged in water over time?"
I pretty much had extra cups, Gobstoppers, a sink, and some time to kill – but even with this not so exciting experiment – the kids were INTO IT! Anything that involves candy works wonders.
Here are a few more tried and true candy experiments:
What will happen when I put a Skittle or M&M in water?
What type of mini candy bars will sink and/or float?
What will happen when I put a Gobstopper in different types of liquid?
How can you get a wintergreen Life Saver to flash in the dark?
How will Skittles or M&Ms dissolve in hot vs. cold water?
These activities from other bloggers are pretty fun too!
Need Wonka Week Supplies?
You can find the candy I order, along with other Wonka Week supplies and Candy Experiment books at the Super Teacher WONKA Week Amazon Recommendation List.
I hope you can use this idea.
Wonka Week is a fun way to get kids engaged during those crazy weeks before a break or at the end of the year!
Do you have other ideas for how to integrate learning with Wonka Week candy fun? Leave a comment below! I'd love to hear all about it!
Have a fab day (and Wonka Week!) Super Teacher,